-= Photos =-
The main draw to the Ex has always been the large steam-powered engines on display and in operation. Rupe Green is pictured here with one of his engines. The right photo shows a closeup of a steam tractor's boiler, and a rear-view a line of steamers is pictured in the centre.



---
Threshing machines, with a steam engine to drive them, were the past-time equivalent of the Combine. Several photos of a thresher in action are shown here.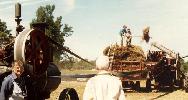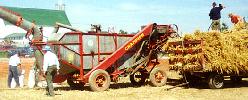 ---
On display at the fair are also other old and antique equipment. To the left is an old small bulldozer. To the right is a rig that was once used to help farmers pull up stumps and large rocks.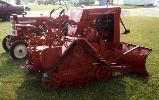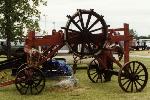 ---
One of the most versatile and important of all farming equipment is the tractor. Old and antique tractors of all types are brought for display every year.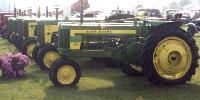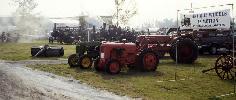 ---
The 1999 Farmersville Exhibition was fortunate enough to host the annual convention of the International Cockshutt Club. Here are a few photos of the tractors and machinery on display.




---
Many of these old tractors and their drivers compete against one-another in the Antique Tractor Pull featured in the left photo. An annual Horse-draw (middle pictures) also takes place during the Ex. And there are always a couple of hay-rides circulating the fair.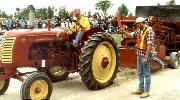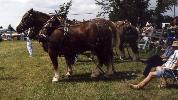 ---
Many antique and classic vehicles are also exhibited each year. Part of "Tack's Toys", a collection of antique trucks and other construction equipment, are shown in the two left photos. There have also been collections of classic motorcycles (middle), and emergency vehicles (right) from days gone by.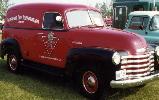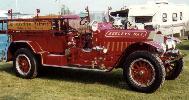 ---
(c) 2002-2017 Athens Lions Club. All Rights Reserved.