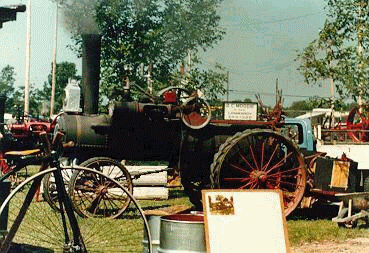 The Farmersville Exhibition, more affectionately known as the "Steam Fair," is an annual event put on by the Athens Lions Club. The fair runs from Friday through Sunday on the third weekend of July.
This image shows one of the many steam engines that are featured at the fair each year.
---
-= SITE NEWS =-
Preparations for the 38th Annual Farmersville Exhibition are well under way. The 2017 fair will run from the evening of Friday, July 14th through to the late afternoon of Sunday, July 16th. Feature Tractor this year is Oliver, along with all lines of vintage tractors, trucks and vintage equipment being displayed. For information on the 2017 show, check out Events This Year.
NEW! Download the 2017 Farmersville Exhibition promotional poster: [ click here ]
(c) 1999-2017 Athens Lions Club. All Rights Reserved.